Shanghai International Convention Center Oriental Riverside Hotel

Add: No.2727, Riverside Avenue Pudong, Shanghai
Oriental Riverside Hotel Shanghai (Shanghai International Convention Center) is located on the Huangpu River. Facing the traditional Bund, it is located in the new financial and Commercial Development Zone of business and leisure in the central area of Pudong.

Oriental Riverside Hotel Shanghai (Shanghai International Convention Center) has spacious rooms, soft tones, and a panoramic view of the Huangpu River; Chinese restaurants with delicious Cantonese cuisine, delicious Huaiyang cuisine, Jinjiang cuisine in different seasons, and Western restaurants with gorgeous facilities are all available; lobby bar and roof bar are comfortable after busy work. Suitable for leisure; the lecture hall can accommodate more than 1000 people, the banquet hall can accommodate more than 4000 people, and the other 21 conference halls can accommodate 50 to 300 people; the exhibition hall A and B can be connected into a large exhibition hall to undertake various exhibition activities.
Oriental Riverside Hotel Shanghai (Shanghai International Convention Center) also has outdoor swimming pool and roof garden facilities, where every visitor to Shanghai can realize the dream of viewing the famous Bund scenery. Here is a leisurely and elegant environment, a variety of special services, hoping to become your first choice for travel and staying.

Website
http://www.shicc.net/
Contact information
Phone: (+86) 021-50370000*6133 Kimmy Wang
Email: wzj@shicc.net
Address: No. 2727 Binjiang Avenue, Pudong, Shanghai, China.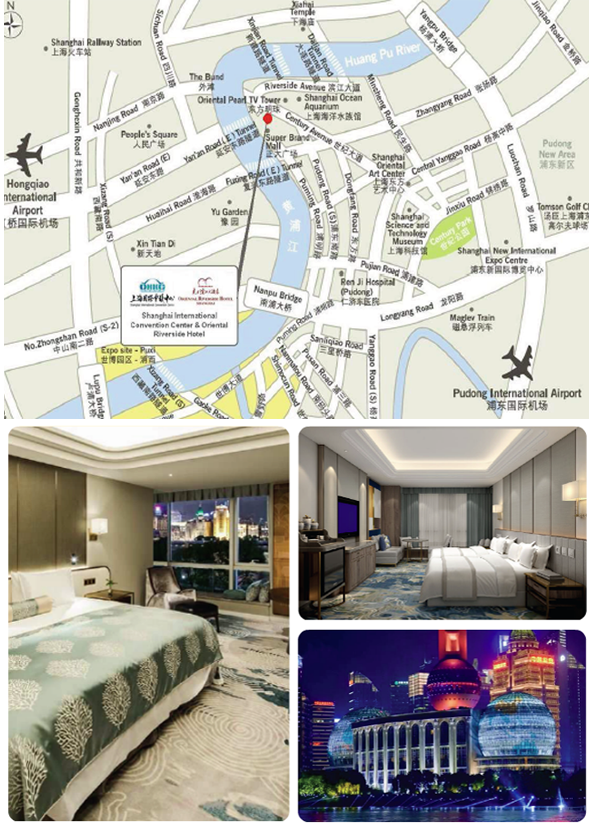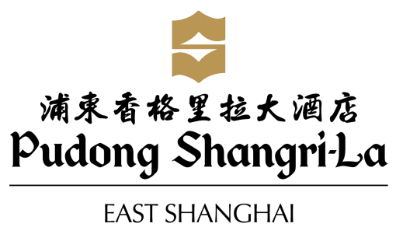 Pudong Shangri- La

Shanghai Pudong Shangri-La Hotel is located in Lujiazui Financial and Trade Zone, adjacent to the Pujiang River, overlooking the charming scenery, good geographical location, distance from the busy shopping center, Metro Line 2, and more accessible to ferry, Nanpu Bridge and many tunnels, easy to travel between the two sides of the Pujiang River.
The Pujiang Tower has more than 500 elegant rooms. The design of Pujiang Tower combines Chinese and Western elements, blending European classical style and Chinese flower elements, making the rooms warm and comfortable. Zijin Tower has more than 300 stylish and fashionable rooms, including more than 30 suites, to create luxurious living experience for guests.
The hotel has 11 restaurants with different styles - Yicafe, Osmanthus Flower Tower, Jade 36 Restaurant and Bar, ZIPANGU Japanese Restaurant, Zijin Lounge, etc. to provide guests with selected delicacies from all over the world. Shangri-La CHI Spa, spacious and luxurious gymnasium, and "Sunshine Room" swimming pool are all the best choices for you to relax.
Website:

https://www.shangri-la.com/shanghai/pudongshangrila/
Contact information
Phone: +86 (21) 68828888
Email: Olivia.Shen@shangri-la.com
Address: 33 Fu Cheng Lu, Pudong, Shanghai, China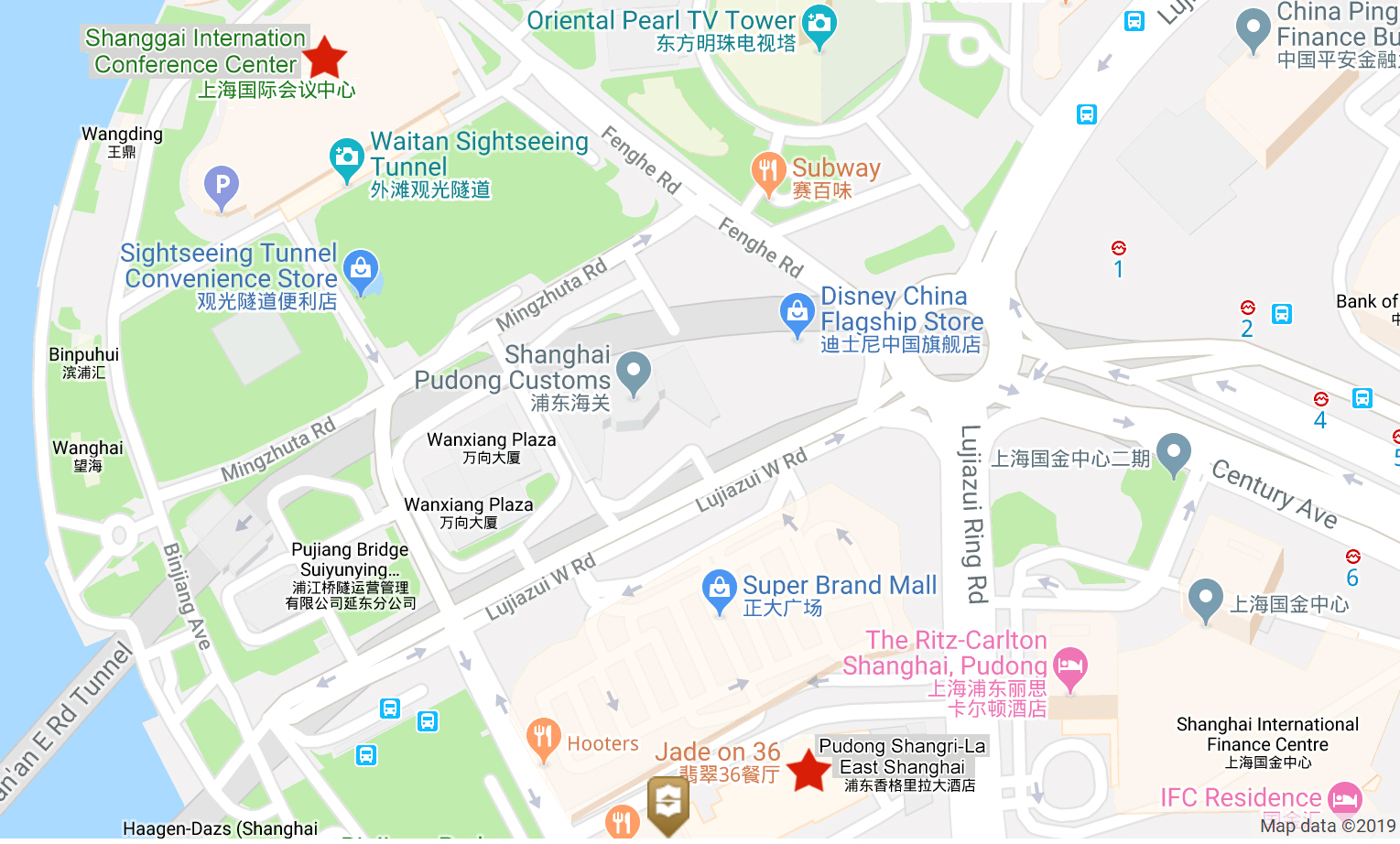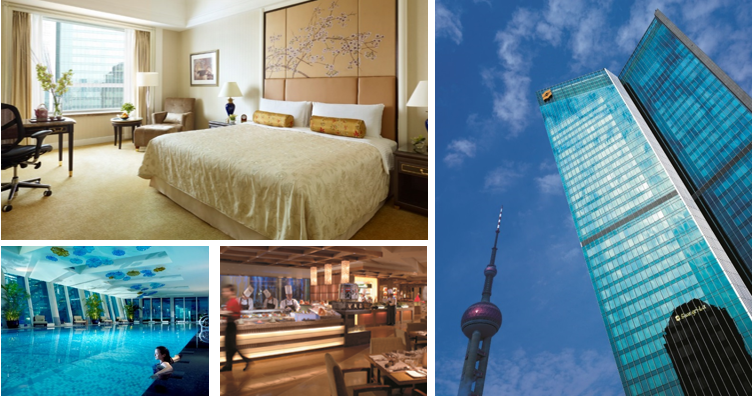 The Ritz-Carlton Shanghai, Pudong
Pudong is the financial and commercial center of Shanghai, located on the East Bank of the beautiful Huangpu River, across the river from Puxi.
The Ritz Carlton Hotel in Pudong, Shanghai is located in the Shanghai Gold Center, which integrates luxury office, accommodation and shopping facilities.
Ritz-Carlton Spa offers luxurious spa experience, choosing abundant spa services ranging from cosmetic care to physical and mental relaxation, with 10 spa rooms featuring Shanghai scenery.
The restaurant bar on the top floor of the 58th floor offers guests a contemporary view of the Bund.
The hotel's conference venue includes a 1,135 square metre banquet hall where guests can enjoy professional conference services and facilities.
Contact information
Phone: +86 (21) 20201888
Email:
tina.x.ding@ritzcarlton.com
Address: Shanghai IFC, 8 Century Avenue, Lujiazui, Pudong, Shanghai, China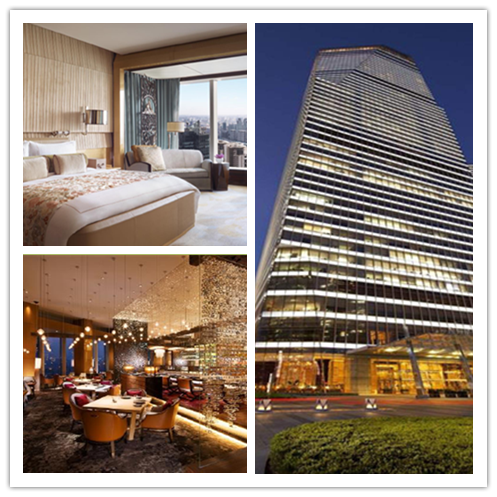 Four Seasons Hotel Pudong, Shanghai

Centrally located in Pudong Lujiazhui business district in the newly-built 55-story 21st Century Tower – locally known as the "jewel box" - Four Seasons Hotel Pudong, Shanghai rises above the urban melee with art-filled interiors that are inspired by Shanghai's Golden Age during the 1920s and 30s Art Deco period. The Hotel features 187 rooms and suites,
offer you wall-to-wall views of the ever-changing cityscape. Exotic woods, luxe leathers and exceptionally high-grade marble lend contemporary luxury to décor inspired by Shanghai art deco. Highly functional, with extra-large marble bathrooms, the room designs anticipate sophisticated travel needs and will ensure you a pleasant journey with us.
And fabulous options for dining and drinking, including Camelia for authentic Italian cuisine, Shang-Xi for top rated Cantonese delicacies and Mi Teppanyaki and Sushi Lounge. The intimate FLARE spa partnered with prestigious French brand GUERLAIN to offer exquisite facial and body treatments. Indoor infinite swimming pool on level 41 ensures each guest the stunning view of the Shanghai cityscape.
Website
https://www.fourseasons.com/shanghai/
Contact information
Phone: +86 (21) 2036 8888
Email:
Hugo.Ji@fourseasons.com
Address: 210 Century Avenue, Pudong, Shanghai, China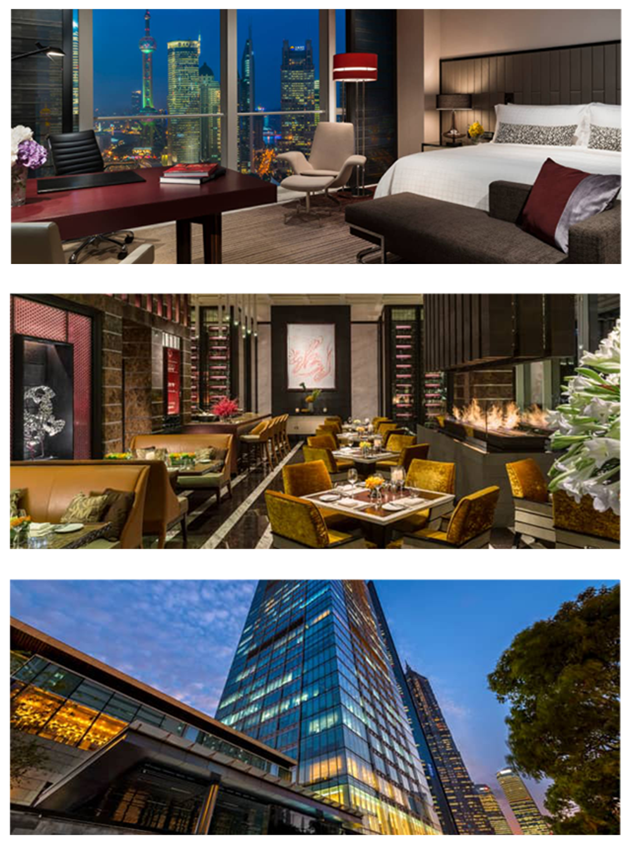 Grand Hyatt Shanghai Jinmao Hotel

Grand Hyatt Shanghai Jinmao Hotel is located in the center of Lujiazui Commercial and Financial District, Pudong, with convenient transportation. The hotel can seamlessly connect the shopping center of Shanghai Golden State Center, Shanghai center, Zhengda square and other shopping malls through the underground passageway. It is adjacent to Jinmao Shanghai fashion life center J LIFE, providing exquisite personality service to high-end business people. The hotel is only five minutes away from the Shanghai International Conference Center, only ten minutes away from Yu Garden and the Bund. It takes only 45 minutes from the hotel to Hongqiao International Airport and Pudong International Airport.
Guestrooms enjoy stunning views of the city's iconic oriental pearl TV Tower, the Bund and the surrounding space-age skyline, and include generously sized marble bathrooms with deep, indulgent bathtubs. Fine dining in the hotel's 11 restaurants and bars, includes delicious Italian, Japanese, Shanghainese, Cantonese cuisines and a prime grill, as well as a range of buffets. The 24-hour business center is fully equipped with secretarial services, while the hotel's concierge team is the most resourceful in the city. Board meetings, conferences and receptions can be held in the Grand Hyatt's function rooms, which can accommodate 12 to 1,200.
Club Oasis offers a gym, therapies, treatments, whirlpool spas, hot and cold plunge pools, sauna and steam rooms, and relaxation lounges. The Sky Pool, with its two-story plate glass windows, offers spectacular 180-degree views over Shanghai.
Website
https://www.hyatt.com/zh-CN/hotel/china/grand-hyatt-shanghai/shagh?offerId=59754948
Contact information
Phone: +86 (21) 50491234
Email:
paul.peng@hyatt.com
Address: Jin Mao Tower, 88 Century Avenue, Pudong, Shanghai, China
Holiday Inn Shanghai Pudong


The Holiday Inn Shanghai Pudong (Shanghai Pudong Jiari Dajiudian) is located in the Lujiazui Financial District and is within easy reach of Metro Lines 2, 4 and 6. The Bund, a top Shanghai attraction, is just a ten-minute drive away under the Huangpu River.

Guestrooms offer all the standard amenities as well as high-speed Internet access for a fee. Entertainment systems in each room include a sound system and flat screen cable/satellite TV. This Shanghai hotel is decorated in a contemporary art deco style and equipped with the latest facilities.

The stylish Mediterranean restaurant and bar offers a broad selection of international dishes. Guinness fans will find their drink of choice in the Irish pub on premises. Guests with free time can enjoy the hotel's indoor pool or fitness center.
Website:
www.holidayinn.com.cn
Special Room Rate for IPBA 2020:
1 queen bed:RMB 880 including 1 breakfast
2 single beds:RMB 980 including 2 breakfast
Reservation Information:
Phone: (+86)021-58306666-70410 Alex Chen
Email:
fred.chen@hipdsh.com
Address: No.899, Dongfang Road, Pudong, Shanghai, China.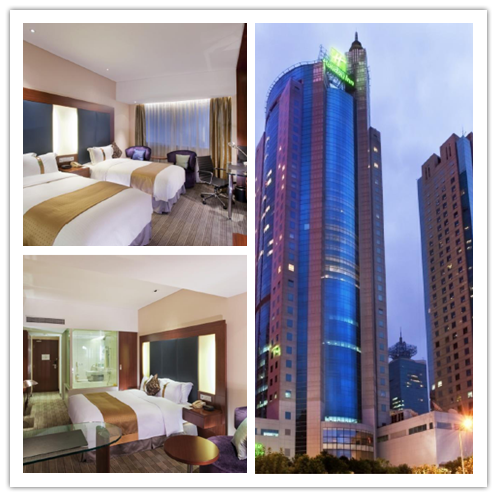 Yitel Collection
(Shanghai Lujia Financial Center The Nextage)


The Yitel Collection (Shanghai Lujia Financial Center The Nextage) is one of the newest hotels in Shanghai, having opened in 2019.
With Shanghai Railway Station just 8km away and Hongqiao International Airport only 23km away, transportation is very convenient. Transportation around the city is also convenient, with Shangcheng Road Metro Station within walking distance. There's plenty to do nearby, with Shanghai Guanfu Museum, Shanghai Tower and Top of Shanghai Observatory all within a short distance.
After a long day of sightseeing, guests can retire to the comfort of the hotel.
According to our guests, this hotel provides a very high level of service. Perfect for those working on the move, this hotel caters to a large number of business guests.
Website
:
https://www.bthhotels.com/

Special Room Rate for IPBA 2020:
Yitel Business Room 1 double bed:RMB 580 including 1 breakfast
Yitel Business Room 2 single beds:RMB 580 including 2 breakfast

Reservation Information:
Phone: (+86)13764186215,Chang Lu
Email: clu@xiongguanghotel.com


Address: 5F, Liangyou Building, No.618 Shangcheng Road Shanghai China